Zoelen (G): reformed church or Stefanuskerk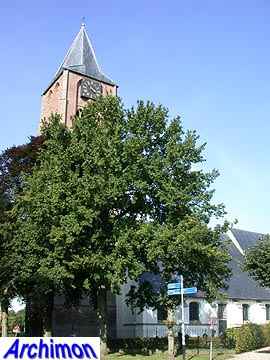 This church was built within a century but in three stages. It probably replaced an earlier church. The oldest part of this church is the tower, which was built in the mid-15th century and shows influences of Utrecht/Sticht Gothicism as well as of Lower Rhine Gothicism. With the exception of the upper segment it is covered by tuff. The upper segment is entirely of brick and has diagonally positioned buttresses at the corners, a feature found at more towers in Lower Rhine Gothic style.
In the second half of the 15th century the rectangular choir and the sacristy were built. The three-aisled pseudo-basilican nave dates from ca. 1545. The shape of the windows is original and shows that in that time Gothicism was mixed with new influences. The coat of white plaster is a later protestant addition.