Apeldoorn (G)


Apeldoorn is the biggest city of the Veluwe region. Its history is closely connected with the nearby palace Het Loo, which in the late 17th century became property of the Orange family, the current royal family. Especially in the last century the former village rapidly grew and became a true city. The old village church was demolished in 1843, all current churches were built later. Despite being located in a largely protestant part of the country, Apeldoorn at the end of the 19th century became an important center of catholic activity, resulting in a number of catholic institutions.
The reformed Grote Kerk was built in 1891-1892 and was designed by J. Verheul. It's one of the most important, if not the most important, example of a church in neo-Renaissance style.
Location: Loolaan 16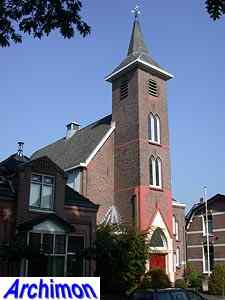 The Lutheran church was built in 1897 and is a small building with a few neo-Gothic elements, designed by an unknown architect.
Location: Prof. Röntgenstraat 9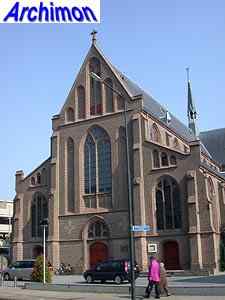 The O.L.V. ten Hemelopneming or Mariakerk is Apeldoorn's oldest catholic church and was built between 1897 and 1902. The original architect, J.W. Boerbooms, died in 1899, when only the nave was complete. Transept and choir were added in a matching neo-Gothic style a few years later by J.Th.J. Cuypers and J. Stuyt.
Location: Hoofdstraat 18
The former Gereformeerde kerk or Noorderkerk was designed by local architect J.A. Wijn and built in 1898. It's a rare example of a protestant church in neo-Gothic style. The church is nowadays used as an office.
Location: P. Joubertstraat 4

The St. Fabianus en Sebastianus was built in 1924-1925. It was designed in Expressionist style by architect J.G.A. van Dongen.

Location: Sebastiaanplein 1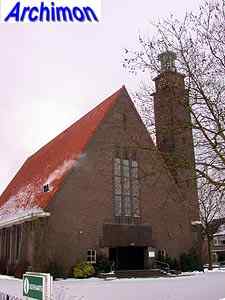 Also in Expressionist style is the reformed Julianakerk, designed by J.G. and P.K. Mensink and built in 1927-1928. The original tower was damaged at the end of the Second World War and replaced after the war by a new one in the style of the Delftse School.

Location: Deventerstraat 91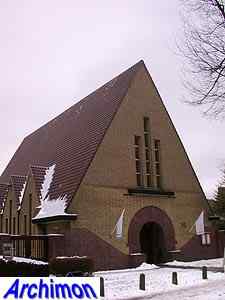 Local architect G.W. van den Beld designed the Mennonite church, another building in moderate Expressionist style. It was built in 1930.

Location: Paslaan 6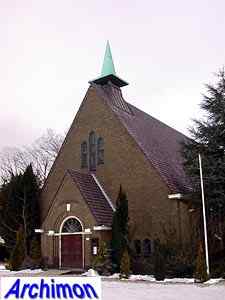 The Regentessekerk was built as the church of the Nederlandse Protestantenbond and is currently used by three liberal protestant denominations. The church, yet another example of moderate Expressionism, was designed by local architect J.H. Klosters and built in 1931.

Location: Regentesselaan 14b
The Gereformeerde Zuiderkerk is another church in moderate Expressionist style, in this case designed by E.J. Rothuizen and built in 1932.

Location: Arnhemseweg 74
Although the minor seminary closed in the early 1970's and is nowadays a police academy, the seminary church remains. Like the rest of the complex, it was designed in Traditionalist style by J.M. van Hardeveld and built in 1932-1935.

Location: Arnhemseweg 346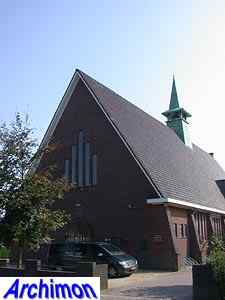 The reformed Goede Herder was built as a chapel in 1934 and was designed by architect T.G. Slijkhuis.
Location: Asselsestraat 199

The chapel of the St. Josephstichting, a catholic mental hospital, was built in 1938-1939. It was designed in Traditionalist style by J.G.A. van Dongen, who had previously designed several other buildings on the premises.

Location: Deventerstraat 459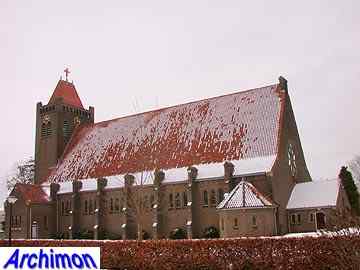 J.G.A. van Dongen also designed the St. Theresia, a big one-aisled church in Traditionalist style, built in 1939.

Location: Zilverschoon 39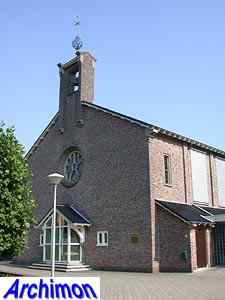 The reformed Jachtlaankerk was built in a simple Traditionalist style in 1951 and is similar to many protestant churches of that time. It was designed by architect Schuring.
Location: Jachtlaan 14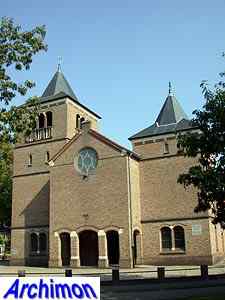 The catholic St. Victor was built in 1955 and was designed in Traditionalist style by H.W. Valk and his son G.H.F. Valk.
Location: Jachtlaan 189