Afferden (G): St. Victor en Gezellen (C. Weber, 1890-1891)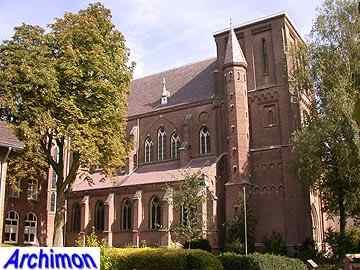 When architect Carl Weber was commissioned to design a new church for Afferden in 1890, he was explicitly told it had to be a cruciform basilican church in neo-Gothic style. However, by that time Weber's style had moved away from straight neo-Gothicism, resulting in several impressive dome-churches in neo-Romanogothic style. Likewise, he incorporated Romanesque elements in Afferden. Although the St. Victor is a cruciform basilica and is mostly neo-Gothic on the outside, the interior shows major influences of Romanesque. Details on the tower are close to Romanesque and more in line with Weber's other work of that time.
The tower was intended to become the tallest of the area, rising higher than the 62 metres tall tower of the church of nearby Druten. But Weber gave the tower insufficient foundation, and already after it reached 17 metres it started to sag in the unsteady ground. Although the construction was strengthened there was no money left to complete the tower. Instead, it was raised to the same height as the nave.